New version here
Following a question in the matplotlib mailing list, I dug inside the code of readshapefile, in order to gain power :
The goal: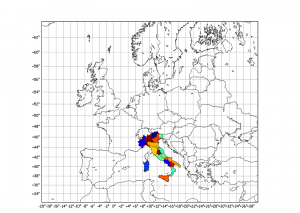 The data:
http://www.gadm.org/ saved inside a new "borders/" folder !
The idea:
Opening a GADM shapefile, get region names, and plot filled regions with random color !
The process:
Copy and extend the readshapefile method from basemap, using the full power of shapelib.
From this example, you could easily check for region names, and plot specific colours for them and not randomly like I do !
The code is after this break:
#
# BaseMap example by geophysique.be
# tutorial 07

import numpy as np
import matplotlib.pyplot as plt
from mpl_toolkits.basemap import Basemap

### PARAMETERS FOR MATPLOTLIB :
import matplotlib as mpl
mpl.rcParams['font.size'] = 10.
mpl.rcParams['font.family'] = 'Comic Sans MS'
mpl.rcParams['axes.labelsize'] = 8.
mpl.rcParams['xtick.labelsize'] = 6.
mpl.rcParams['ytick.labelsize'] = 6.

fig = plt.figure(figsize=(11.7,8.3))
#Custom adjust of the subplots
plt.subplots_adjust(left=0.05,right=0.95,top=0.90,bottom=0.05,wspace=0.15,hspace=0.05)
ax = plt.subplot(111)
#Let's create a basemap of Europe
x1 = -20.
x2 = 40.
y1 = 32.
y2 = 64.

m = Basemap(resolution='i',projection='merc', llcrnrlat=y1,urcrnrlat=y2,llcrnrlon=x1,urcrnrlon=x2,lat_ts=(x1+x2)/2)
m.drawcountries(linewidth=0.5)
m.drawcoastlines(linewidth=0.5)
m.drawparallels(np.arange(y1,y2,2.),labels=[1,0,0,0],color='black',dashes=[1,0],labelstyle='+/-',linewidth=0.2) # draw parallels
m.drawmeridians(np.arange(x1,x2,2.),labels=[0,0,0,1],color='black',dashes=[1,0],labelstyle='+/-',linewidth=0.2) # draw meridians

from shapelib import ShapeFile
import dbflib
from matplotlib.collections import LineCollection
from matplotlib import cm

shp = ShapeFile(r"borders\ita_adm1")
dbf = dbflib.open(r"borders\ita_adm1")

for npoly in range(shp.info()[0]):
    shpsegs = []
    shpinfo = []

    shp_object = shp.read_object(npoly)
    verts = shp_object.vertices()
    rings = len(verts)
    for ring in range(rings):
        lons, lats = zip(*verts[ring])
        if max(lons) > 721. or min(lons) < -721. or max(lats) > 91. or min(lats) < -91:
            raise ValueError,msg
        x, y = m(lons, lats)
        shpsegs.append(zip(x,y))
        if ring == 0:
            shapedict = dbf.read_record(npoly)
        name = shapedict["NAME_1"]
        # add information about ring number to dictionary.
        shapedict['RINGNUM'] = ring+1
        shapedict['SHAPENUM'] = npoly+1
        shpinfo.append(shapedict)
    print name
    lines = LineCollection(shpsegs,antialiaseds=(1,))
    lines.set_facecolors(cm.jet(np.random.rand(1)))
    lines.set_edgecolors('k')
    lines.set_linewidth(0.3)
    ax.add_collection(lines)

plt.savefig('tutorial07.png',dpi=300)
plt.show()